---
---
Pan African Medical Journal Supplement - Call for papers
---
---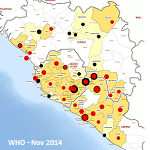 The Pan African Medical Journal and the African Field Epidemiology Network (AFENET) are publishing a supplement on Ebola in West Africa.
In December 2013, a case of Ebola was reported from Guéckédou, a forested area of Guinea near the border with Liberia and Sierra Leone. In 2014, the worst epidemic of Ebola Virus Disease (EVD) the world has ever seen is still ongoing in West Africa. According to WHO, more than 20,000 cases and 7,500 fatalities have been reported from 6 countries in West Africa by December 2014.

The Ebola outbreak in West Africa almost shattered the socio-economic fabric of affected countries and revealed the state of despair and abandonment of the health care system in Liberia, Sierra Leone and Guinee Conakry.

What lessons have Africa and the international community learned from the current EVD outbreak in West Africa? How to prevent future outbreaks?

PAMJ invites submission of relevant articles (editorial, letters to the editors, research, opinion, commentaries) reflecting on the West Africa EVD outbreak preparedness, response and impact.

The supplement will feature experts from Africa and abroad who have played or continue to play a significant role in containing the outbreak and rebuilding health systems in affected countries.


Accepted articles will be exempted from article processing charges. The expected publication date of the supplement is in early April 2015.
Submit your manuscript now, deadline is 10 March 2015.
---
---
Terms and conditions | Privacy statement | Contact technical board | RSS feeds
© Copyright (2014) - Published with the African Field Epidemiology Network (AFENET) - ISSN: 1937-8688 - All Rights Reserved